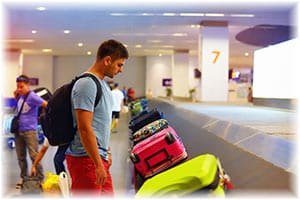 You're waiting at the airport for your luggage, but it simply won't show up. What are the chances of you ever seeing it again, and what should you do if you find yourself at the airport without your bags?
This is every traveller's nightmare. You reach your final destination, but your luggage is nowhere to be found. The only thing left is your small bag, and there's no guarantee that you'll ever see the rest of your luggage.
What happens to the luggage that gets lost along the way? Is it possible that you'll see your bags again if this ever happens to you?
The Numbers Are Optimistic
The good news is that the number of lost bags is decreasing annually. According to SITA statistics, 5,3 bags per 1000 passengers get lost, a decrease of 12% compared to the previous years. During the last 10 years, there was a decrease of more than 70%.
"The precise statistics of lost or damaged baggage are kept by the airlines themselves. The damage claims made at Czech Airlines Handling, which operates more than half of the flights at Vaclav Havel Airport Prague, don't surpass 1% of the total number of bags transported by the airline. Only 0,2% of all the bags were reported as damaged or stolen," states Kateřina Pavlíková, the spokeswoman of Czech Airline Handling.
According to the statistics of the Association of European Airlines, 85% of bags reported as lost find their way to their owners in less than 48 hours. Only 7% of bags get stolen or lost forever, while some sources claim that this number is as little as 2%.
Torn Tags and Forgotten Baggage

"If the traveller doesn't receive their baggage, it usually means that the baggage is late. In this case, we usually return the bags in less than 24 hours, or 48 hours," states Kateřina Pavlíková.
"Baggage, where the individual tag with the name and destination of a passenger was damaged or torn down, is a bit more difficult to return. In this case, the delay can be days or weeks at worst. However, these cases account for only a very small fraction of total cases of lost baggage. In case of lost baggage, we operate our very own courier service which delivers lost bags multiple times a day to the address the company and the passenger mutually agreed on."
Most bags get lost precisely for this reason since the tag is the sole means of finding out whose baggage is being transported and where it is being transported to. If you find yourself waiting for your baggage at the airport and provide a description of your bag to the airline, they can then find it for you and send it your way.
Another not so frequent possibility is that the traveller forgets to pick up his luggage from the carousel. This happens mainly because the traveller may carry more than one bag and therefore forget to pick one of them up. In this case, the employees will pick the bag up, store it for you and give it back to you when you realise you've forgotten to pick it up.
There are, of course, cases where a simple error plays a role. An example would be that the employee puts a wrong code on the tag or that your bag gets loaded into the wrong aeroplane. When you reach the final destination, the description of your bag gets uploaded, and when the bag gets found at a different airport, it will get sent to your destination.
First Aid
But what to do if you find yourself at the airport only with your small bag? "If a traveller finds themselves lost without their baggage, the airline offers compensation for securing the traveller's most basic needs. The cases are reviewed individually," explains Kateřina Pavlíková.
"Some airlines offer financial compensation directly at the airport or give out "overnight kits" that include the basics regarding hygiene. Airlines can also compensate the traveller for his expenses regarding clothes and hygiene based on the receipts he keeps. You need to remember that everything depends on the individual airline."
First of all, you'll have to report the loss of your baggage at the baggage claim. There, together with an employee, you'll fill out a form that will then be uploaded to the system, and you'll receive a code that can then be used to see the current status of your claim.
Financial Compensation
If your bag isn't found in seven days, fill out a written form regarding financial compensation. But beware, since the airline won't pay for the things inside of your bag, but for the losses caused by the loss of your luggage (this is why you'll need receipts for your clothes, hygiene necessities, cosmetics and anything else that you had to buy for yourself). Your bag is considered "lost" after 21 days. After 21 days have passed, you may ask (maximum of two years after you lose your bag) for financial compensation for both the bag and its contents.
The airline itself is responsible for the transport of baggage. Each company has its own practices put in place for these situations. The terms and limits of compensation for lost and damaged baggage may differ. In case of loss, the traveller will fill out the description of everything he had inside the bag, including, for example, the colours, sizes and brands of clothes inside, according to Kateřina Pavlíková.
The responsibility of airline companies for baggage is governed by the Montreal treaty, which states the precise amount of money the airlines are pledged to guarantee. There are, of course, commercial insurance plans regarding loss of baggage. If the baggage has a higher value, the customer can declare this before flying and pay a fee according to the terms of that individual airline, adds Pavlíková.
The maximum compensation that you can ask from an airline company is 1445 EUR, according to the Montreal treaty (37,150 CZK), per bag. From this amount, you need to deduct the amount of money you spent on clothes and hygiene necessities so that you could have survived without the baggage. So if you bought clothes and cosmetics for 200 EUR, your maximum claim decreases to 1245 EUR.
Preventive Measures
The following tips will increase your chances of finding your luggage:
Choose flights with longer transfer periods. If the transfer takes less than an hour, there's a chance that your bags will get lost.
Put your own tag with your name, contact info and final destination on your bag. You can also take a picture of your ticket and put it in the bag. This will make finding the owner when the baggage gets lost a lot easier.
Put reflective strips or stickers on your bag so that it can get identified in the mass of other black bags. In this case, the bag will be easier to look for, and you'll prevent a situation where another passenger takes it by accident.
Be on time for check-in. If you come to check in at the last minute, complications may arise.