Getting to the City Centre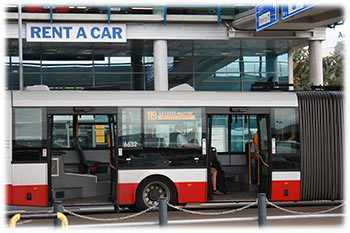 Unfortunately, there is no direct metro or train connection to the city, leaving public buses and the Airport Express bus line as the only budget transport options from the airport to the city centre. For the fastest transport to the city centre or the nearest metro station, it is recommended to use bus route no. 119 or no. 100. For connection to the train station, use the AE bus – other bus services are much less convenient. Also, please note that if you arrive after 11.00 pm, you might not be able to travel by public transport, as the last public bus departs from the airport at around 11.40 pm. After this time, travel by public transport is only possible using a combination of night routes with night trams because the metro does not operate after midnight. It is notably complicated and results in a journey to the city centre taking around two hours.
If you take the no. 119 bus, you should get off at the last stop, Nádraží Veleslavín, where you can transfer to metro line A. Once you board the metro, in just about 15 minutes, you will be in the city centre. Get off at Malostranská if travelling to the Malá Strana (Lesser Town), at Staroměstská if going to the Old Town (Old Town Square), or Můstek or Muzeum if going to the Wenceslas Square area.
Bus no. 100 will take you from the airport to Zlíčín with a possible connection to the city via metro line B. Add an extra 30 minutes for travel to the city centre, getting off at the Můstek (Wenceslas Square) or Florenc (next to the Main Bus Station) stop.
Public Transport Information: free phone (+420) 800 191 817.
Bus service from the airport to the city centre – Download PDF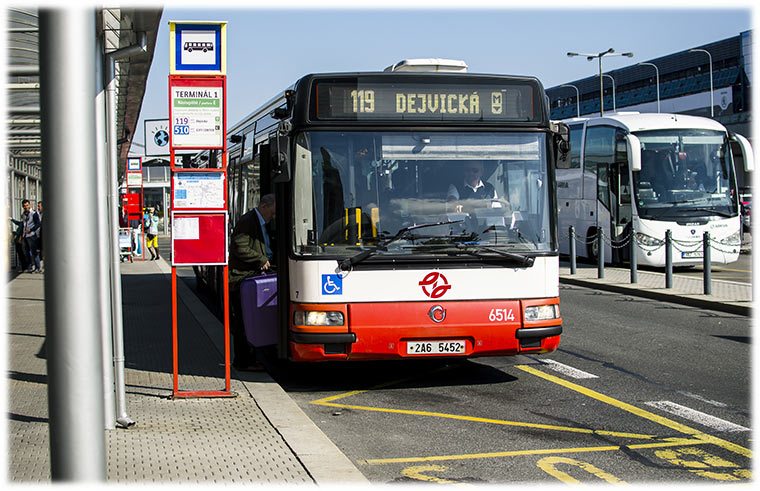 Bus Routes
Bus no. 119 from Terminal 1 stop (Exit D, E, F) and Terminal 2 stop (Exit C, D, E) -> Nádraží Veleslavín (Metro Line A). Time of travel: approx. 20 minutes. Departs every 5 to 20 minutes from 4.15 am to 11.30 pm.
Bus no. 100 from Terminal 1 stop (Exit D, E, F) and Terminal 2 stop (Exit C, D, E) -> Zlíčín (Metro Line B). Time of travel: approx. 20 minutes. This bus is a good choice if you are heading to the western part of the city.
Bus no. 191 from Terminal 1 stop and Terminal 2 stop -> Petřiny (Metro Line A) -> Anděl (Metro Line B) -> Bus station Na Knížecí (Student Agency bus stops). Travel time from the Airport to the Anděl stop is 48 minutes. Service operates from 5.00 am till half past midnight.
Bus no. 510 from Terminal 1 stop (Exit D, E, F) and Terminal 2 stop (Exit C, D, E) -> Na Beránku. Time of travel: approx. 45 minutes from I. P. Pavlova station, or 73 minutes to the last stop Na Beránku. Service operates at night-time only, running from 0.15 am to 5.00 am. If travelling to the city centre, get off at I. P. Pavlova (near Wenceslas Square).
Bus AE (Airport Express) from Terminal 1 stop (exit D) –> Terminal 2 stop (exit E) -> Masarykovo Train Station (Metro Line B) -> Main Train Station (Metro Line C). Travel time to the Main Station approx. 35 minutes. The line stops at the Masarykovo Train Station and Náměstí Republiky only in the direction of the Main Train Station (departure only).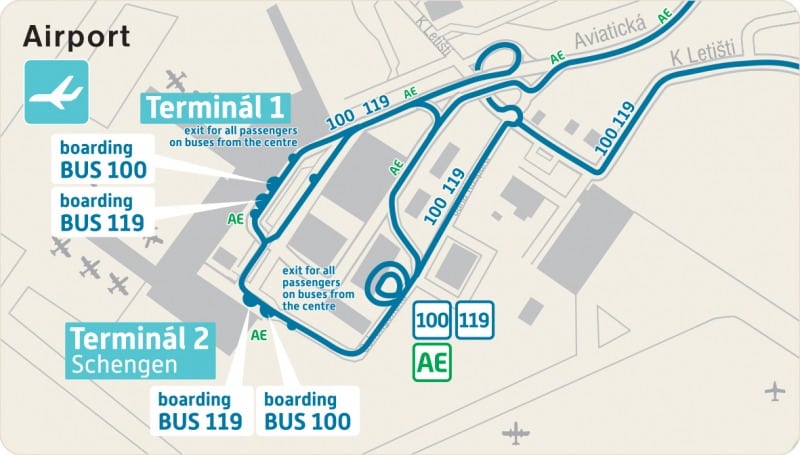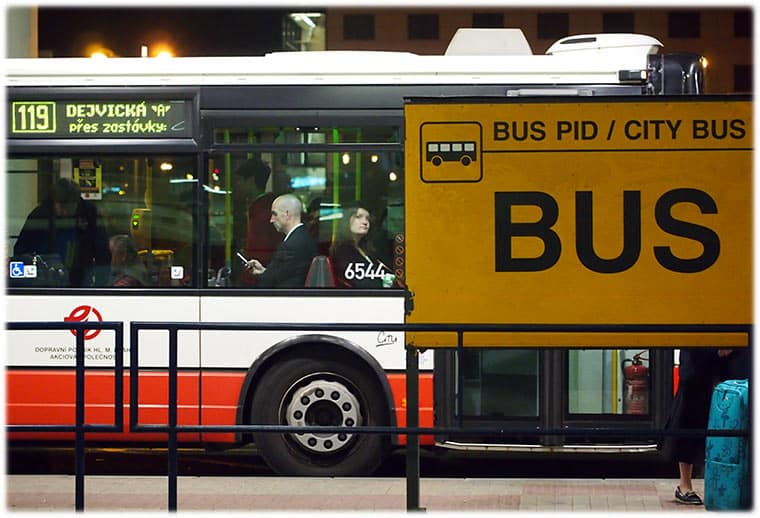 Ticket Sales
You should purchase a bus ticket before travelling, or if you arrive late and all kiosks are closed, buy a ticket directly from the driver. When purchasing a ticket from the driver, please note that only cash is accepted (large banknotes are not accepted), and you will pay a higher price (including a surcharge). Prague Public Transport counters are located in the arrival halls of Terminal 1 and Terminal 2, open from 7:00 am to 10:00 pm. There are also coin-operated vending machines at each airport bus stop.
Validate Your Tickets Properly

Validate tickets immediately upon entering the vehicle or station transportation area.
In trams and buses, use the ticket validation machines on the holding poles near the vehicle doors.
Use the validation machines located at station entrances in metro stations and the funicular.
Fares
Basic ticket: adults CZK 40 / senior CZK 20 – all tickets are valid for 90 minutes on any public transport.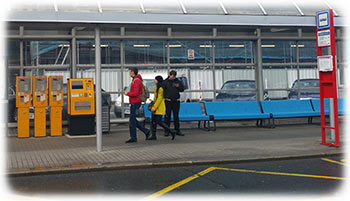 When buying a 40 CZK ticket for public transport, you will receive a transferable ticket allowing you to travel for 90 minutes. Note that if you carry any large pieces of luggage, e.g., a backpack or suitcase, you must purchase an additional half-price ticket (20 CZK).
Please check the current fares at the Prague Public Transport counters in the arrival halls of Terminal 1 and Terminal 2 or visit www.dp-praha.cz
If you are staying longer or plan to use public transport more frequently (more than a few times a day), short-term passes with unlimited travel within ticket validity are a good choice. Most visitors find travel passes cost-effective and hassle-free.
24-hour pass: 120 CZK
3-day pass (72 hours): 330 CZK
Luggage Transport
Bicycles and other oversized equipment can be transported only in the metro. If you carry luggage, you are required to purchase a half-price ticket in addition to your standard fare.
Airport Express Bus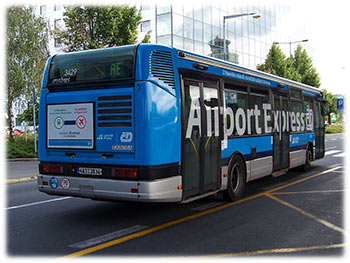 The Airport Express bus is recommended if you travel to the Main Train Station and, although unnecessary, it is beneficial for transport to the city centre. The Main Train station is a hub for connecting trains departing to major cities and towns in the Czech Republic and other European capitals. The AE bus is timed to connect with arrivals and departures of all SC Pendolino, Eurocity and Intercity trains. A fare of 100 CZK is charged on this route when purchased from the driver. The fare also covers travel from Holešovice Station to Prague Central Station if the passenger continues his journey on Czech Railways trains from Central Station.
Tickets are available from the bus driver, online at www.cd.cz, on vending machines at selected Czech stations and at all Czech Railways ticket counters.
The bus service does not operate during the night. During the day, it runs every 30 minutes.
Info Centres at Prague Airport
The Prague Public Transit Company's Information Centres provide all information concerning public transport operations, including routes, timetables, and fares.
The scope of the services provided:
Information about the Prague Integrated Transport System, including its tariffs and its contractual conditions of carriage.
The sale of timetables, maps, publications and the Prague Public Transit Company's promotional materials
The sale of individual tickets for 30 or 90 minutes or 24 or 72 hours and the Prague Card
The sale of all electronic fares will be recorded on a chip card (only in Terminal 1)
The sale of PIT cards and paper coupons with an optional commencement date of their validity (only in Terminal 1)
It is also possible to obtain leaflets about planned and ongoing closures and changes to routes and other informational materials about the Prague public transport system free of charge.
The information centre at Terminal 1 / Arrivals
Opening hours:
Monday – Friday between 7.00 am and 9 pm.
(with breaks between 11.00 am and 11.45 am and 5.00 pm and 5.45 pm)
Saturday – Sunday between 8.00 am and 7 pm.
(with a break between 1.00 pm and 1.45 pm)
The information centre at Terminal 2 / Arrivals
Opening hours: Daily between 7.00 am and 9.00 pm.