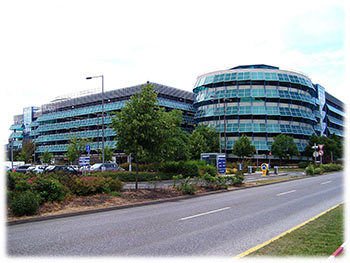 Prague Airport offers a wide range of convenient and safe parking options directly at the airport (www.aeroparking.cz). There are about 3,000 parking spaces in total, of which about two-thirds are long-term spaces. Fees are fixed rates for the first day's parking, with subsequent rates depending on how many days you leave your vehicle.
Due to security regulations, passengers can no longer park in the first lane at Terminal 1. This lane is reserved for airport contractual partners and employees, and you must have a special access card.
Short-Term Parking – Drop-Off & Pick-Up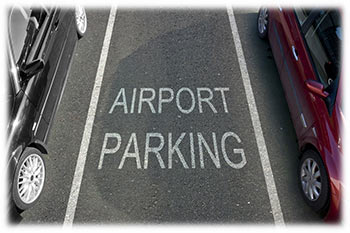 If you are dropping off or collecting passengers, there is a ground-level car park on the other side of the bus lane, which is free for 15 minutes. After this time, there is a charge of 100 CZK every 30 minutes.
– The P1 EXPRESS (Terminal 1) and P2 EXPRESS (Terminal 2) parking lots are intended for quick stops, pick-ups and drop-offs.
– The P1 EXPRESS  (Terminal 1) and P2 EXPRESS (Terminal 2) parking lots are located directly in front of the terminal buildings.
– Free of charge for 15 minutes when used, not more than once an hour.
– Each additional 30–minute period is subject to a charge of CZK 100.
Due to the capacity limits of the express parking lot, the parking fee from the 16th to the 30th minute is subject to a regulatory fee of CZK 100. Then it is charged 100 CZK for each further half-hour started! Free entrance for 15 minutes is limited to once in 24 hours only.
Value / Prepaid Card
You can also buy value cards for 500 or 2,000 crowns. That lowers the price per 15 minutes to 50 or 40 crowns.
Prague Airport offers the possibility of purchasing a so-called value / prepaid card for frequent users of express parking spaces.
The value / prepaid card will allow its holder to:
– park free of charge on express parking lots for 15 minutes once every 24 hours
– preferential tariffs for repeated entry to the express parking lot according to the prepaid tariff, a choice of two tariffs, Tariff A (amount of the deposit is CZK 500) and Tariff B (deposit amount of CZK 2000)
The purchase price is CZK 235. You can request a card at the AeroParking counter at Parking C's vestibule.
Short-Term Parking – Parking C (COMFORT) and B (ECONOMY)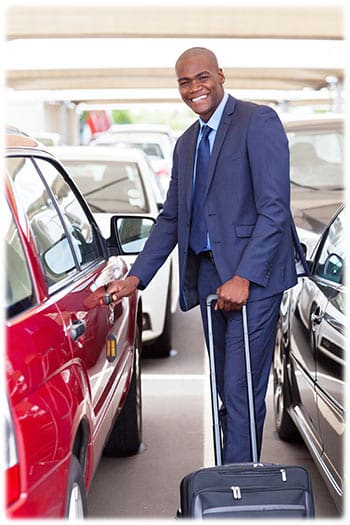 Three-storey garage Parking Building C is located directly on the access road from the motorway between Prague and Kladno, 70 metres from Terminal 1 (maximum two-minute walk). Terminal 2 is possible via an elevated covered walkway (a three-minute walk). The parking garage is barrier-free and equipped with high-capacity lifts—the ground floor houses more than a dozen car rental agencies.
– Intended for parking over 15 minutes.
– Use the patrolled covered Parking C or the outdoor Parking B.
– Both parking lots are within a two- to three-minute walk from the terminals.
Parking C – hourly rates – 80 CZK for 1 hour. For a full day, the parking rate is 900 CZK; for one week, 2350 CZK and 3100 CZK for two weeks.
Parking B – hourly rates – 80 CZK for 1 hour. 
Long-Term Parking – Pa SMART
The airport also offers discounted long-term parking, which is currently the cheapest parking at Prague Airport. The discounted parking fee for one week is 990 CZK.
– The best and most affordable option for those who wish to leave their car for longer.
– Safely covered parking lot equipped with the latest camera surveillance system.
– Parking Pa SMART is within a seven-minute walk or one public transport bus stop from the terminals.
VIP Parking – Parking C (COMFORT VIP)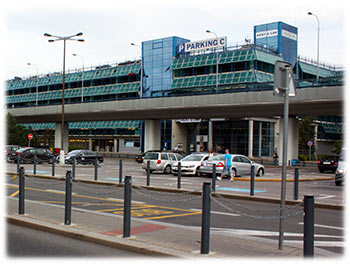 VIP parking is located on the second floor in building parking C. If parking exceeds 48 hours, above-standard service, car wash and cleaning are included in the parking price. The entrance to Parking C and Parking D is limited to vehicles 2.20 m in height. For a full day, the parking rate is 1000 CZK and 4300 CZK for one week.
– Provides 24/7 security staff surveillance of your car.
– Situated on Level 2 of the covered Parking C building.
– The best choice for the most demanding clients.
Washing and interior cleaning
To take advantage of this service, use the right entrance to the building, labelled "Car Rental Only". Parking provides washing and cleaning of the interior, refuelling, and tyre pressure and washer fluids checks.
Free storage
We offer all drivers taking advantage of the Prague Airport parking lots the opportunity to store valuables from their vehicles free-of-charge at the Parking Dispatching Centre located on the ground floor of Parking C. Items not required on your journey (e.g., hands-free GPS devices, radios, car keys) can be placed in special locked, sealed boxes.
Battery recharging
Free assistance in recharging batteries.
Contact
NON-STOP Parking office +420 220 11 4022, Email: [email protected]
Parking for Disabled Travellers
Free parking is available for disabled passengers, but drivers must have a valid disability ZTP/P card.
If you belong to this category, park your car at any parking lot (free parking does not apply to VIP parking). Indoor and guarded Parking C is recommended as the best car park. Before leaving, you must bring a parking ticket and a ZTP/P card to the Parking Control Center on the ground floor of Parking C, where you will be given a new parking ticket with an accessible exit.
Bus and Minibus Parking
Bus drivers (minimum 9 +1) may park in front of Terminal 1 using the third (dedicated) lane at P1 Express parking and Parking B (PB Economy) for parking in front of Terminal 2. Both lots have boarding bays for easy boarding, deboarding, and luggage handling.
The parking fee is charged for every 30 minutes and costs 120 CZK.
Motorcycle Parking
Motorcycle parking is on the second floor of the secure parking area in Pc Comfort. Upon pressing the button, a parking ticket will be issued to you at the entry gates to the parking area. Motorcycles are parked in a designated area where they may be locked.
The parking fee is 80 CZK per hour or 900 CZK daily (up to one week).
Parking Fees
The parking price depends on the location and duration of parking. Parking fees can be paid in cash or by debit/credit card at self-service terminals. More than 20 parking cashier machines are placed in both terminals' arrival and departure halls near parking lot exits. Payment may be made in cash or by credit card (Visa, MasterCard, Diners Club and American Express). The machines issue a payment receipt. The Non-stop service counter and parking control are located on the 1st floor of the Parking building.
The operator is only responsible for the vehicle and its parts on the monitored parking lot, not its contents. For items that are not vehicle equipment (navigation, DVD player, hands-free, etc.), use storage services free of charge for items. Free parking is provided for ZTP/P disabled cardholders, except for VIP parking.
AeroParking Contact
You can get assistance anytime from the Aeroparking team by phone at +420 220 114 022. In case of a problem with exiting, you can press the button in the dispenser at the exit gate to connect to the dispatch centre. In the event of a ticket loss, for example, you must come to the car park control room on the ground floor of Parking C. Email: [email protected]
Europort Parking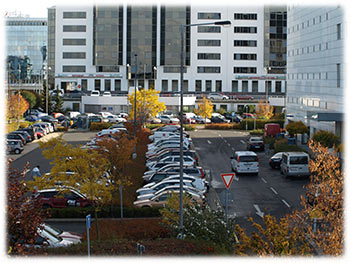 This parking lot is managed by the private company Evropark Praha a.s, contrary to all other parking lots operated directly by Prague Airport. The parking site, with a capacity of 500 parking spaces and the garage of Parking T1+2, is well situated right in front of Terminals 1 and 2. Parking T1+2 offers customers a modern, pleasant atmosphere and user-friendly parking (parking spaces and ramps are vast). It takes approximately two minutes to reach the terminals (from the first floor by footbridge from the ground floor by pavement).
Parking T1+T2 is open 24 hours a day/7 days a week, equipped with modern parking facilities and CCTV.
Opening hours: NON-STOP
Prices: 80 CZK per hour (and subsequent hours of parking); 600 CZK for one day.
Airport Business Center
The Airport Business Center has an outdoor garage primarily intended for staff and visitors to the centre but is accessible to all passengers. Parking spaces are located behind the Marriot Hotel behind another crossing. The parking costs are lower than in the airport area.
Terminal 3 Parking
Per hour: CZK 80
Per day: CZK 900
Per one week: CZK 1450
Parking Lots Near to Airport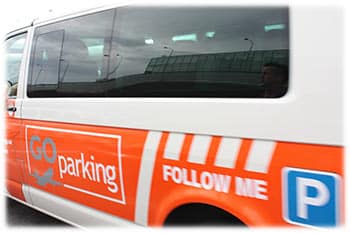 There are also many companies providing parking spaces near the airport. Once you have made a booking, you arrive at their location, park your car, and then they will transport you to the airport. The process is the same for your return journey: you call them upon arrival at the airport, and they will pick you up within 15 minutes.
1) www.goparking.cz – from 100 CZK / per day, non-stop, fully secured
2) www.letiste-parking.cz – from 40 CZK / per day
4) www.smileparking.cz – parking place in the garage
Future of Prague Airport Parking

The area of Ruzyně Airport is expected to undergo a major transformation in the coming years, which will also affect parking. PA Smart will be demolished in the future. It is already over time for both design and moral durability. The building is intended for demolition, also due to the completion of Terminal 2 and related adjustments and completion of the traffic ramp located at the terminal.

The new first parking house is to be built in 2021. Under the B parking lot, underground parking is also planned, with a total of 1550 spots. In the case of parking house A, it should be a maximum of 1490 spots.

The requirements for the bus station still assume that instead of the promised trains, buses will continue to run to the airport, but the parking space should be adapted to large-capacity cars of up to 25 meters. But the area is supposed to be ready for the trains to run to the airport.

The increase in the number of passengers causes a lack of parking spaces and parking spaces are regularly sold out for some days in months like June and July.