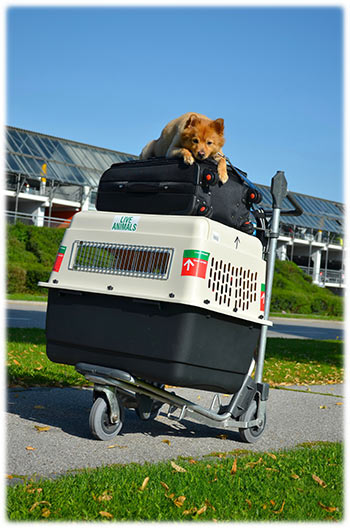 When booking your ticket, you must notify the airline that you will be transporting an animal since the number of animals being transported is limited.
Before departure, you must enquire about possible requirements and limitations related to the entry of animals into your destination country. Standard conditions for travelling with animals are applicable in European Union countries. These conditions can be found on the information Web pages of the State Veterinary Administration.
Information on specific requirements related to examination and vaccinations in several countries (also within the EU) can be found on this website. The animal must be marked with the required tag, and a tag must also be displayed on the box. This tag must contain your contact information both in the country of departure and the country of destination.
Animals Can Be Transported Onboard the Plane
in the cabin as cabin luggage
in the loading area as dispatched luggage
in the loading area as goods.
Most airlines only allow for the transport of dogs, cats, rabbits, and ferrets, and specifically, they are not heavier than eight kilograms. While a fee is payable for the transportation of animals, dogs for disabled travellers are transported free of charge and with no requirement for a box. In the case of the export or import of animals, please refer to the Border Veterinary Administration of the Czech Republic or another member state. The services of the Veterinary Station at Ruzyně are also used during the transportation of animals to zoos or the import of small mammals, aquarium and terrarium animals for commerce with breeding needs and other animal products.
Prague Airport employees ensure the reception and release of consignments via the Veterinary Station. There is no limitation on the time a consignment is held, but it is dispatched only after examining a veterinarian.
Working Hours of Official Veterinarians
Mon-Fri 7:00 a.m.-9:30 p.m.
Sat-Sun 9:00 a.m.-5:00 p.m. – phone emergency
Phone: +420 220 113 267