Prague Airport handles over 200 daily flights (in peak season, sometimes nearly 300). It is used by approximately 45 to 50 carriers operating direct connections, scheduled and charter, to 83 destinations worldwide (in 38 countries), making it a sizeable airport. The winter timetable tends to see fewer flights operating than the summer timetable.
Up to 1.2 Million People a Month Use the Airport

Based on the number of passengers passing through the terminals (around 10-12 million passengers a year), Václav Havel Airport is among the top 30 airports in Europe and the second-largest airport in central Europe. Its popularity has been boosted by the number of budget airlines benefiting from Prague's central European location. Needless to say, Prague Airport has some major competitors in the form of nearby airports such as Vienna, Munich, Nuremberg and Dresden, with many passengers looking for cheaper flights choosing to depart from those airports rather than from Prague. Another factor reducing the number of flights at Prague Airport is that Czech-owned carrier Czech Airlines has significantly reduced its flights to many destinations.  The latest factor influencing the volume of passengers is that some low-cost airlines interested in flying to Prague could not reach an agreement as Prague Airport still has very high fees, so negotiations failed; for example, with Ryanair.
Czech Airlines (ČSA)
The major flight carrier at Prague Airport is Czech Airlines (ČSA), part of the SkyTeam Alliance, and operates flights mostly to European and Russian destinations. In 2012 and 2013, this carrier expanded its services to Asia and Australia in cooperation with Etihad Airways and Koran Air (which purchased 44% of the company stock and possibly saved the company from bankruptcy).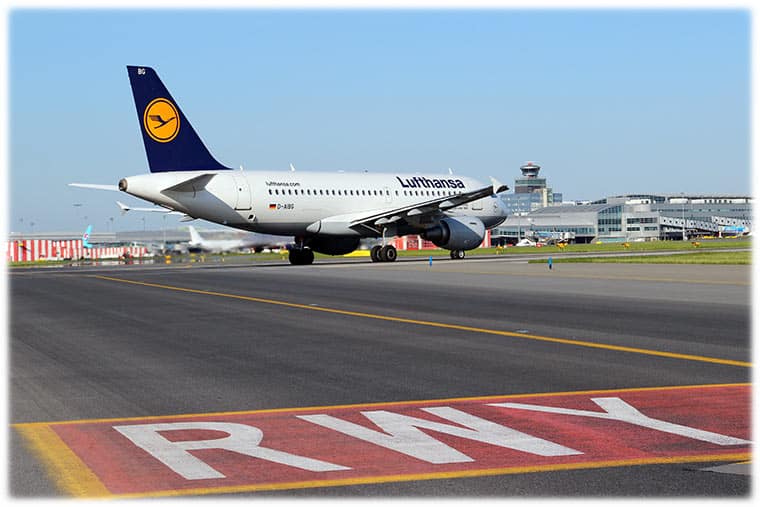 Direct Flights
Current direct flights operated from Prague Airport fly to Abu Dhabi, Almaty, Amsterdam, Athens, Baku, Barcelona, Bari, Basel / Mulhouse, Berlin / Tegel, Bristol, Brussels, Bucharest / Otopeni, Budapest, Cologne, Copenhagen, Donetsk, Dubai, Dublin, Dusseldorf, Edinburgh, Ekaterinburg, Frankfurt, Geneva, Hamburg, Helsinki, Istanbul, Kazan, Kyiv / Borispol, Kosice, Krasnodar, Leeds, Lisbon, London / Gatwick, London / Heathrow, London / Luton, London / Stansted, Lyon, Madrid, Manchester, Marseille, Milan / Bergamo, Milan / Malpensa, Minsk, Moscow / Sheremetyevo, Munich, Naples, Newcastle, Nizhniy Novgorod, Novosibirsk, Odesa, Oslo, Ostrava, Paris / Charles de Gaulle, Perm, Pisa, Riga, Rome/Fiumicino, Rostov, Rotterdam, Samara, Seoul / Incheon, Sofia, St Petersburg, Stockholm / Arlanda, Strasbourg, Stuttgart, Tashkent, Tbilisi, Tel Aviv, Toulouse, Ufa, Venice/Marco Polo, Venice/Treviso, Vienna, Warsaw, Yerevan, Zurich.