Courtyard by Marriott Prague Airport
This newly built seven-storey hotel was first opened in 2007. The hotel is conveniently situated just in front of Terminal 1, with a directly covered walkway from Terminal 2. Due to its convenient location and quality of service, this hotel is extremely popular with transit travellers.
The hotel features pleasant contemporary architecture. Multilingual staff at the 24-hour front desk can offer currency exchange, concierge services and the use of a safe deposit box. The hotel's public areas and rooms have wireless and wired Internet access (surcharge might apply), and parking is available on-site (surcharge). The modern multifunctional conference facilities are ideal for international meetings, training courses and seminars at which participants worldwide can easily interact.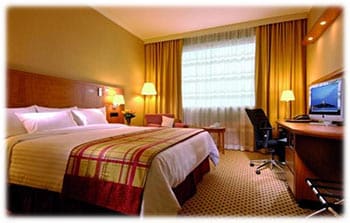 – 132 Quality king rooms with shower corner
– 98 Quality double rooms with bathtub
– 5 Studios with separate living rooms.
Room facilities: air-conditioning, in-room safe, high-speed Internet access, direct-dial telephone, 23-inch flat-screen TV with international channels and on-demand film & music system, refrigerator, iron and ironing board and coffee- & tea-making facilities.
Other hotel facilities include a business centre, fitness room, Oléo Pazzo® Mediterranean bistro and bar.
Price range: prices start from 1350 CZK for a single or double room.
Hotel contacts: Aviatická 1092/8, 161 00 Prague 6, Phone: (+420) 236 077 077; www.marriott.com/prgpa; Book online
Hotel Ramada
This four-star modern hotel can be found near Terminal 3 and only two kilometres from Terminal 1 or Terminal 2, providing good options for transit passengers. Hotel telephones are available in Terminal 1, so you can contact the hotel directly from the airport.
Hotel Ramada is also good for business travellers and short city breaks. The hotel offers its guests comfortably equipped rooms, a restaurant serving Czech and international cuisine, full-service meeting rooms, a quiet working area in a business centre and online information on flight arrivals and departures.
Internet is available in the hotel rooms and costs just four euros per hour.
Price range: from 99 euros for a single or double room.
The hotel has a business centre as well as conference rooms. Tel.: +420 271 090 832, Reception: +420 220 111 250; Book online
Hotel Holiday Inn Prague Airport
Hotel Holiday Inn Prague Airport is a 4-star hotel located just an eight-minute walk (300 metres) from Terminals 1 and 2. Holiday Inn Prague Airport, formerly Hotel Tranzit, provides a good option for transit passengers. Hotel telephones are available in Terminal 2, so you can contact the hotel directly from the airport. Under airport regulations, the windows cannot be opened – although the rooms are tranquil, some people may find it inconvenient. A free non-stop shuttle bus will take you directly to the hotel. The hotel accepts all major credit cards. Internet access is available in the hotel rooms free of charge.
The seven-storey hotel is fully air-conditioned, with access for disabled passengers. This transit hotel offers 70 spacious double rooms and five luxury suites with a total capacity of 160 beds. The hotel's modern restaurant and bar, including a summer garden, offers a wide range of international and Czech cuisine. Thanks to its unique position, it is an ideal option for both business and leisure visitors. Although most guests are business travellers and transit passengers, an increasing number of people find it very convenient to stay in a fine-quality hotel at the airport for a reasonable price while visiting Prague.
Price range: One night (24 hours) from 125 euros for a double room (1- or 2-person occupancy). Also available for "day use" from 8:00 a.m. until 6:00 p.m. The eight-hour charge starts from 58 euros and five hours from 40 euros.
Hotel contacts: Phone +420 236 161 111, Address: K Letisti 1074/32, 16100 Prague, www.hipragueairport.com; Book online
Prague Airport Boarding House
The boarding house near Terminal 3 offers low-cost accommodation in twin-bed rooms with standard furnishings. One type of room has an in-room shower; others have showers on the same floor. You can use shared kitchen facilities on the floor. Other services for an extra charge include the lending of a TV, washing machine, storage of valuables in a safe, and snacks in the reception area—capacity: 294 beds.
Contacts: Tel.: +420 220 112 850, www.prende.cz
Useful Tip: Check with your particular hotel as most airport hotels provide a free shuttle bus.