Assistance for People With Reduced Mobility and Orientation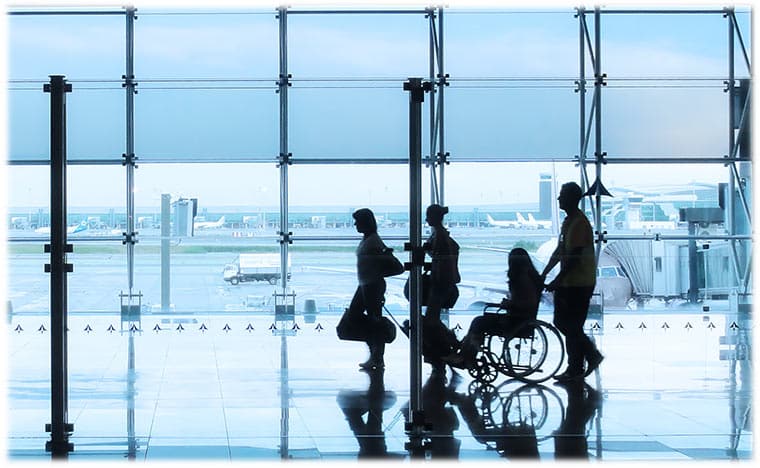 All public areas of the airport are barrier-free and suitable for wheelchairs. Special assistance for disabled passengers can be requested through your specific airline when booking your air ticket.
Also, all passengers with disabilities or limited mobility people with physical or other disabilities can receive assistance free of charge, provided by MaidPro Service. The service must be ordered at least 36 hours in advance by phone: +420 220 111 220. Service is provided 24 hours a day.
If you are in a wheelchair and your wheelchair is foldable, you can order a private minibus transfer from Prague Airport Transfers. They will help you with all your requests, but unfortunately, they do not provide vehicles with ramps.
Requests for assistance can also be made at the airport check-in counters, information desks, and designated areas (e.g., car parks). In this case, immediate service cannot be guaranteed; therefore, we recommend ordering the assistance in advance. The assistant will be ready to help at the previously agreed location. Depending on the type of disability, they will assist in handling, security and passport control; they will take you to your Gate and help with boarding and seating. You will be the first to board and the last to leave the aircraft.
If ordering this service from an airline, be prepared to order earlier; most airlines require you to book assistance services at least 48 hours before departure.
Parking at the Airport for Visitors With Disabilities
If you hold an ID card for persons with disabilities, you can park your car in any airport car park and multi-storey car park for free. Before your departure, show your ID card for persons with disabilities at the AeroParking offices located on the ground floor, Parking C, where you will be issued a ticket for free exit.
Taxi at the Airport for Visitors With Disabilities
Currently, there is no taxi operator at the airport for passengers with special needs. It is advisable to book those services before your arrival.