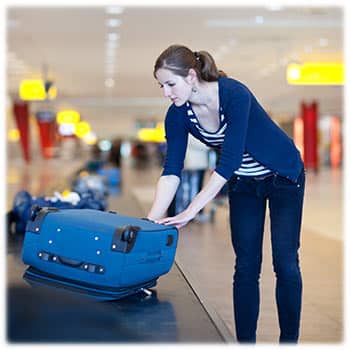 We want to remind passengers that luggage weight limits must be strictly observed to ensure a smooth check-in process. No official international standards regulate the size and dimensions of hold and hand baggage; rules vary according to individual airlines, seating classes, destinations and distances.
If you travel on a low-cost flight, you will probably be charged extra for your luggage. Low-cost airlines are also well known for strict luggage policies – it is recommended that you check your exact luggage weight in order not to pay extra for additional weight. Other airlines typically allow 23kg per passenger in economy class and 32kg in business class or first class. Some airlines allow only one piece of a checked bag, while some do not impose limits (only a weight limit – check with your airline).
Hold Luggage
Rules concerning hold luggage check-in may be found on your boarding pass or obtained directly from your airline.
Large Items of Luggage and Animals
Large luggage items, such as skis, surfboards, musical instruments, bicycles, umbrellas, etc., will be accepted. Transport costs vary from airline to airline. Large luggage items and animals must be checked at oversized luggage counters. Please obtain precise information from your airline before check-in. Small dogs and cats are accepted by some airlines as carry-on items.
Hand Luggage
Only one piece of hand luggage may be taken onboard the aircraft. Since there are no international standards governing the size or dimensions of hand luggage, please ask your airline for information.
Maximum safety is assured by checking luggage and complying with security regulations. Under EU regulations, some unsafe objects are forbidden from being brought on board for security reasons. Please familiarise yourself in advance with the items that fall into this category and are prohibited. For further information, check our "Security Rules" section.
Baggage Deposit
For those using Prague just as a transit airport and willing to spend at least a few hours in the city centre, there is an option to leave the luggage in baggage deposit, which is affordable and comfortable. The price for each item is 250 CZK up to for 24 hours. You leave the luggage and get a receipt, which you must keep and show when you want the suitcase back. The service works around the clock.
Babages sizes for Storage Deposit
Cabin/Hand Baggage – the maximum size is 56 x 45 (54) x 25, and the max weight is 15 kg (Carry-on baggage)
Regular Hold Baggage – the maximum size per piece of baggage is 158 cm in total (h+w+d) and max. 23 kg (Standard bags and suitcases, backpacks)
Oversize/Special Baggage – the maximum size per piece of baggage does not exceed 300 cm in total (h+w+d) and does not weigh more than 32 kg. That includes items like Bicycle, Golfbag, Skis/Snowboards, Surfboards/Paddleboard, Musical instruments, Transport boxes/containers for animals, Baby trolley, Wheelchair (Manual/Electrical), Baby Seat and Umbrellas.