Yellow reputable AAA taxis no longer have taxi stands at the airport. All travellers are recommended to use Prague Airport Transfers, which operates a private taxi and low-cost shuttle service with a fixed price, or the services of carriers whose details are listed below. You will reach your destination safely and reliably in tried and tested cars that guarantee quality. If you take a taxi without pre-booking or with a non-reputable company, you should negotiate a price or at least get a price estimate before you get in.
Be aware of Prague taxi drivers, who have a very bad reputation for overcharging tourists. There have been a significant number of reports about airport taxi rip-offs by touts outside the airport terminal, and even complaints about airport metered taxis are not uncommon. Prague Municipality is trying hard to clear this bad reputation and taxis are randomly checked by a special police team, though this in fact did not eliminate the problem. Still today there are large numbers of taxi drivers who take advantage of first-time visitors to Prague and take longer routes or even go as far as to adjust meters to run faster.
Prague Airport Transfers (Flat Rate Taxis)
A popular private transport service at a fixed price with one price for most city locations, including all Prague hotels. For groups of up to four passengers, it will cost 750 CZK or 990 CZK for up to eight passengers. You should pre-book this service online or call once you arrive, and they will send a car within 10 minutes. Once you arrive, their English-speaking driver will welcome you, holding a card with your name. If you visit Prague for the first time, they offer excellent free walking tours, free printed guidebooks and maps. Credit cards accepted. Prague Airport Transfers is one of the most reputable transfer companies in Prague.
Contacts: www.prague-airport-transfers.co.uk; +420 222 554 211 ; email: [email protected]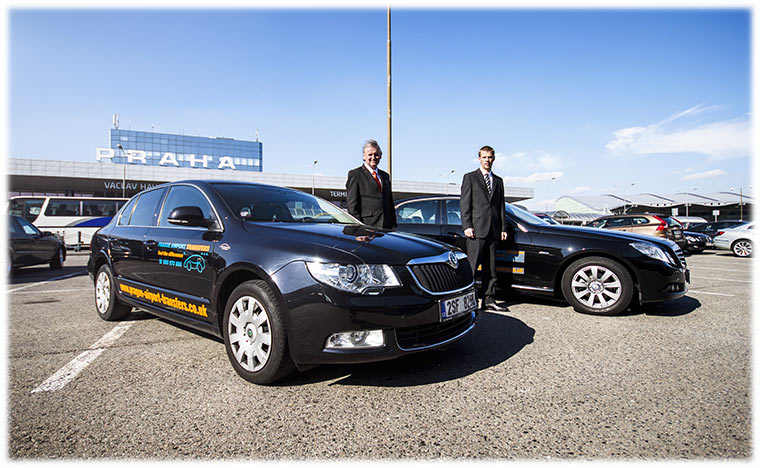 Taxi Price Guide
If you are not travelling with Prague Airport Transfers at a fixed-price tariff, the final price depends on the distance and traffic, making it difficult to estimate exactly how much you will pay. Prices range from 300 CZK if you are going just to an airport hotel located a few kilometres from the terminal to 1500 CZK if you travel to the farthest end of Prague (assuming there is little traffic). Thus, if travelling during the peak traffic, travel from the airport to the city centre can take 45 minutes, and the final price will be higher than if travelling late in the evening or early in the morning. If the taxi has to wait in the traffic or at lights, you will be charged 7 CZK per minute. The standard price to the city centre is around 700 CZK, and you shouldn't pay more than 800 CZK. If you are asked for more than 800 CZK, this should raise a red flag that something is wrong. It is good to know that tourists have significant reports about metered airport taxis trying to fool them with bad practices to inflate taxi charges. One of the most popular is that the taxi driver takes a longer route to the city centre or intentionally chooses a route with heavy traffic where you will be charged for waiting. For example, 15 minutes of waiting will increase the total charge by about 100 CZK.
Warning

It is very common that official taxi drivers, rather than using a direct route to Prague City centre, use the highway bypass to make the journey more expensive. Although the journey will not be much faster, it will be significantly more expensive as drivers will charge for a longer distance, per km. Such trips can be about 30 km and can cost at least 1000 CZK.