You can exchange your money for Czech crowns from the bureau de change offices, which are mostly open from 6:00 a.m. till 11:00 p.m. or withdraw cash from ATMs. It is not recommended to exchange money or to cash traveller's cheques at the airport because the commission can be high (around 5% to 10%), and rates can be much less favourable than in downtown Prague (10 to 20% lower); however, if you absolutely need to change money, check out the offers for the exchange of larger amounts (for example, over 500 euros), as the commission can be considerably lower, or even zero.
ATMS
ATMs at Komerční banka, ČSOB, Česká spořitelna, UniCredit Bank Czech Republic, Pharro and Citibank (T2) are accessible 24 hours a day.
Cash dispensers are located in the public areas at both terminals (not in the transit area). If you arrive at Terminal 1, the ATMs are located a few metres from the exit door on the left-hand side and are very easy to find. If you arrive at Terminal 2, there are fewer ATMs, and they are quite hard to find; located at the end of the lobby on the right-hand side, they are quite a long walk away. All cash dispensers accept major debit and credit cards such as Visa, MasterCard, Cirrus, Maestro and EC, but not all ATMs accept American Express. Most ATMs issue just 500, 1000 and 2000 CZK banknotes, so it is always a good idea to ensure you have some smaller banknotes on you (for tickets, etc.).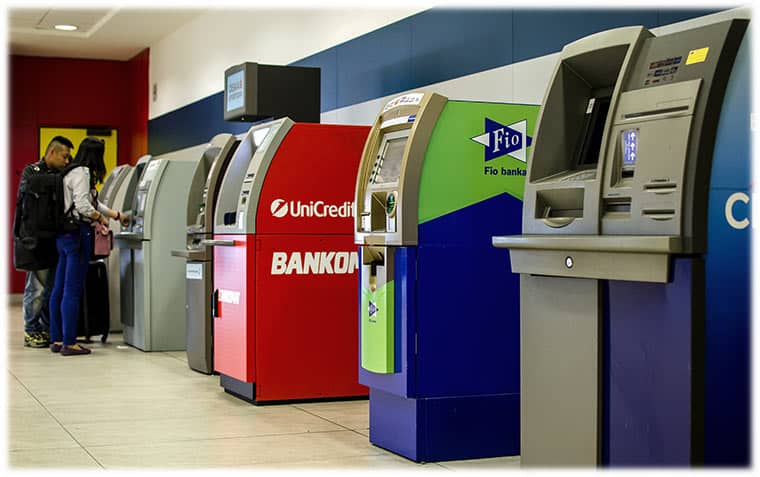 Currency Exchange Machines
There are three currency exchange machines within the terminal building, allowing passengers to exchange money anytime, around the clock. Two automats are located within the transit area of the terminal; the third one can be found in the public area of the Arrival Hall.
Currency Exchange Offices
If you are scheduled to arrive late at night, it is recommended that you exchange money before clearing customs, as the exchange offices in the main halls are often closed at night. All exchange offices offer a tax refund service.
CASH POINT
Terminal 1, Transit pass; Open: 6:00 – 22:30
Terminal 1, Departures public; Open: 6:00 – 22:30
Phone: +420 224 263 001, +420 235 351 610
INTERCHANGE (Global Travel, spol. s.r.o.).
Terminal 1, Arrival public; Open: 6:00 – 23:00
Terminal 1, Baggage; Open: 6:00 – 23:00
Terminal 1, Transit pass; Open:  6:30 – 22:30
Terminal 1, Transit kiosk; Open: 7:00 – 21:00
Terminal 1, Departures public; Open: NON-STOP
Terminal 2, Arrival public; Open: 6:00 – 23:00
Terminal 2, Baggage; Open: 7:00 – 22:30
Terminal 2, Baggage (II.) ; Open: 6:00 – 23:00
Terminal 2, Departures public; Open: NON-STOP
Terminal 2, Transit pass; Open:  6:00 – 23:00