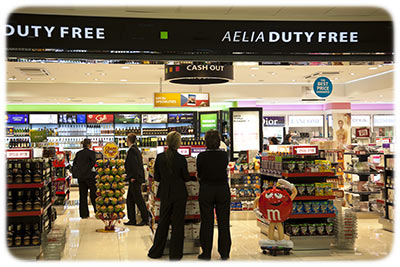 Duty-free shopping is available in the transit area of Terminal 1. Shops located in the transit area of Terminal 2 might be marked as duty-free, but tax is paid on all items as Terminal 2 only handles flights within the Schengen zone. There are about 80 shops, including bookshops, newsstands, perfumeries, duty-free shops, and shops selling luxury and brand clothing, gift items, travel accessories, Czech glassware, etc. To name a few: Blue Praha, Bohemia Crystal, Egermann, Erpet Bohemia Crystal, Czech Garnet, selling mostly Czech-made glass and jewellery, gift items, travel accessories, etc. Shops are generally open from 7:00 a.m. to 9:00 p.m.
Advice: Only selected items might represent good value – most perfumes, clothes and other merchandise can be purchased at the same or a lower price in Prague's shopping malls.
Carry-On Purchases
Goods purchased at departure zone shops, including beverages, perfumes, and other liquids, can be taken with you onboard the aircraft. If you are transferring to another flight, the cashier will place your purchases and receipt in a security bag.
Security Measures
Security regulations at European airports do not in any way limit the sales of perfumes, creams, drinks, gels or other liquids (except for flights to the USA).
Terminal 1
If purchases of the type indicated above are made in Terminal 1, the goods will be placed, along with their receipt, in a transparent security bag. The purchase of goods of this type is not limited in terms of either volume or quantity. Upon leaving the point of sale, the bag must remain closed and intact until arrival at your target destination.
Terminal 2
In Terminal 2, shops are located behind the security checkpoint. After purchasing goods, passengers do not go through a security checkpoint; thus, the purchase doesn't need to be enclosed in a security bag. Beware, however, during transfers: passengers transferring to other airports for further flights on the same day must have their purchases enclosed in a security bag (see the procedure indicated for sales in Terminal 1) to ensure that their purchases are not confiscated at security checkpoints in other airports during transfers.
Exception – Flights to the USA
Additional security measures are currently in place for flights to the USA, which does not recognise the uniform security measures taken at European airports. The permitted quantity of liquids and gels is strictly limited to one resealable transparent bag per passenger, which holds no more than a litre of liquids, with individual containers holding no more than 100 ml.