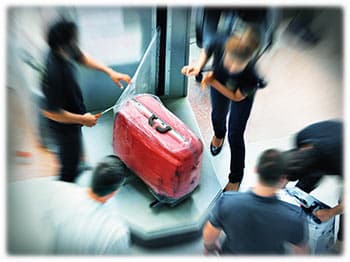 Information and Tips About Your Luggage
It is in your best interest to mark your luggage with a tag containing your name, address and telephone number.
Valuables, important documents, and medication should be brought with you in your hand baggage.
Lock your luggage or have it wrapped.
Remove labels and tags from previous trips. This will reduce the risk of your baggage being delivered to the wrong location.
Baggage-Wrapping
Before departure, you can take advantage of the luggage-wrapping service in both terminals' public areas in the departure hall. Wrapping your suitcases in plastic film protects your belongings from damage and prevents your luggage from being opened during transport and handling. Two companies are providing this service.
• Luggage is 100% locked • Protection against weather influence • Protection against external damage • Easier manipulation during transport • Prevention of possible claims and problems.
Price list: 350 CZK (cheaper when booking online or wrapping more pieces of luggage)
Baggage Deposit
You can leave your luggage in the airport storage facility if you wish. It is handy if you arrive at the airport too early or catch a connecting flight and want to take a short trip to the city centre. You can store your luggage for an hour up to one month. The standard charge is 120 CZK for one piece of luggage for 24 hours. The service is available 24 hours a day. Baggage deposit is located in the Terminal 2 public area in the departure hall, at the corner of the hall by the oversized baggage counter. Phone: +420 220 113 226 or Email:  [email protected]
Baggage Claim Service
Complaints related to carrier services should be directed to the complaints desk of the airline company that provided the service. Every airline should take care of your complaint. If the luggage is lost, they should compensate you or, if later found, forward it to your address or hotel. Damaged luggage should be repaired or exchanged for new if a complaint is made after collecting your luggage.