Security Rules, Restrictions Concerning Carry-on Liquid Allowances, And Restrictions For EU Airports
Whether you're flying away on a holiday or a business trip, please pay attention to basic security rules. Following these will ensure that your check-in at the airport goes smoothly with no complications.
To safeguard air transport, passengers checking in must go through security procedures to prevent any forbidden and potentially dangerous objects from being taken on board the plane. Therefore, before you pack your baggage, determine which items should not be carried in your hand luggage.
Dangerous objects include explosives, weapons, knives, and materials that could be a potential hazard. There are, therefore, tight restrictions on the amount of liquids and gels you can take in your hand luggage through passport control.
If you are travelling to the USA, please be aware that, as part of their security checks, the US authorities have implemented additional screening procedures which differ from standard security checks. Detailed information on the rules relating to the transport of liquids, forbidden items, and security checks on flights to the USA is available from the information stands at Prague Airport or from security staff.
EU Security Standards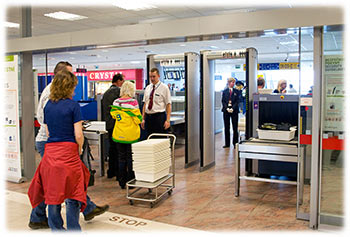 Restrictions on the quantity of liquids transported in hand baggage apply to all passengers flying from EU countries or transferring across EU countries.
Liquids that can be transported in cabin baggage, with a limitation:
Water, drinks, syrups and soups
Creams, oils, solutions
Sprays, perfumes, mascara
Hair and shower gels
Pressurised sprays, shaving foams and deodorants
Pastes, toothpaste
Liquid and solid substances and mixtures
Other objects of similar consistency.
The above-listed mixtures of solid or liquid substances can be transported only:
• In individual containers with a capacity not greater than 100 millilitres contained in one transparent re-sealable plastic bag of a capacity not exceeding 1 litre
• Upon presentation at security check (i.e. removed from cabin baggage).
Liquids that can be transported in cabin baggage without limitation:
Children's and baby food for a period of travel
Pharmaceuticals and dietary meals.
In this regard, a medical prescription or confirmation is always recommended for children's and baby food for the time of travel, pharmaceuticals and dietary meals.
Articles of this nature can be purchased without limitation only in shops located in the non-public area of the airport. Under regulations, it must be properly packed by the seller.
Prohibited Items
Guns, firearms and other articles with similar effects
According to special legal regulation, any firearm, as well as other articles, is capable of discharging a projectile or causing injury by means of explosive force, air or gas compression. It also applies to ammunition for firearms, imitation firearms and replicas of historical firearms
Knives pointed/edged weapons, and sharp objects
Pointed or bladed articles capable of causing injury
Blunt instruments capable of causing injury
Any chemical or toxic substances which pose a risk to the health of passengers and crew or the security/safety of civil aviation, aircraft or property.
The information on security standards listed herein constitutes a brief summary of elementary rules only. For detailed information, please contact the information desk or the staff of Prague Airport security or www.prg.aero
Any passenger in possession of an article not contained, over which the security staff have a concern, may be refused access to a security-restricted area and the cabin of an aircraft.