Prague Airport History
Czechoslovakia, today Czech Republic, was one of the leading European pioneers of civil aviation and over time has become part of the most state-of-the-art continental transportation system. Prague-Ruzyně Airport began operations on April 5, 1937, but Czechoslovak civil aviation history started at the military airport in Prague-Kbely in 1919. In the mid-1930s, due to insufficient capacity at Kbely airport, the government decided to develop a new state civil airport in Ruzyně. Some of the major awards received by Prague Ruzyně Airport include a diploma and gold medal granted in 1937 on the occasion of the International Art and Technical Exhibition in Paris (Exposition Internationale des Arts et Techniques dans la Vie Moderne, also known as Paris 1937 World's Fair) for the technical conception of the central airport, primarily the architecture of the check-in building (nowadays known as Terminal 1) designed by architect Ing. A. Beneš. Other awards were granted for modernisation during various airport development phases.
All of these factors led to increased interest from carriers for using Prague Airport. The airport boasts a prime location in terms of its close proximity to the centre of Prague and its European situation. Moreover, the Ruzyně fields provide opportunities for further expansion of the airport to cope with increasing capacity demand. The airport serves as a hub for the trans-European airport network. Clearly, political and economic changes have affected the airport during its seventy years of existence. Some new air transportation companies and institutions have been founded and some have ceased operation during this time. Ten entities have been responsible for airport administration throughout this period, including the new construction and development. Up until the 1990s, there were two- or three-decade gaps before the major modernisation of the Prague-Ruzyně Airport began in order to cater for its new capacity requirements. Since then, the airport has been undergoing modernisation on an ongoing basis and has gradually become one of the top European airports.
Runways
The airport possesses two runways that are in service: 06/24 and 13/31. The former runway 04/22 is no longer used. The most used runway is 24 due to the prevailing western winds. Runway 31 is also used frequently. Runway 06 is used rarely, while runway 13 is used only exceptionally.
Further Development
With the airport's capacity reaching its limit, further development of the airport is being arranged. Prague Airport began preparations for building a new runway, parallel to the 06/24 runway. The construction, with estimated costs of CZK 9 billion, is scheduled to begin soon (but exact date was not confirmed yet). It will be over 3500 metres long. Located about 1500 metres south-east of the present main runway, the 24L runway will be equipped with a category III ILS allowing landing and taking off under bad weather conditions (even under zero visibility). Prague Airport has stated that, besides increasing airport capacity (nearly double number of passengers per year,), the new runway system will greatly reduce noise levels in some densely inhabited areas of Prague. This will be achieved by reorganising the air traffic space around the airport and shifting the traffic corridors after putting the two parallel runways into service. The prospect of heavy traffic raised many protests from the suburban communities located directly within the airport vicinity.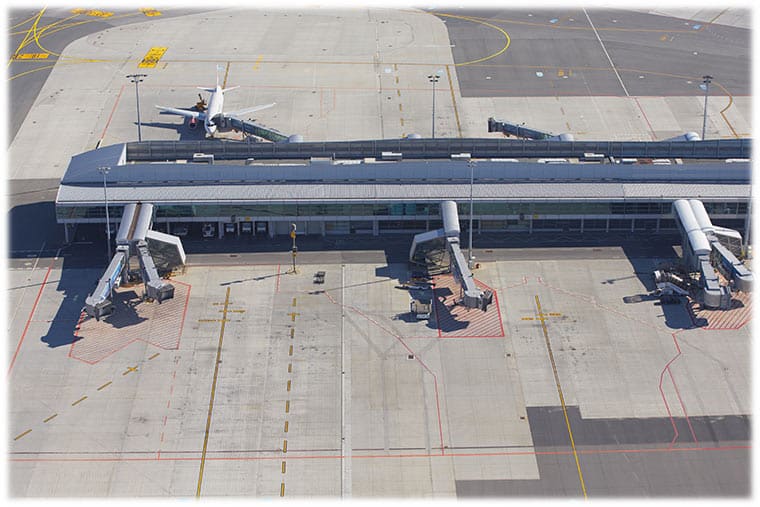 Airport Safety and Accidents
Prague Airport ranks as a safe EU airport. It has had just two major accidents in the past:
On 30 October 1975, Inex-Adria Aviopromet Flight 450, a Douglas DC-9-32, hit high ground during an approach in fog to Prague Ruzyně Airport. 75 of the 120 passengers and crew on board were killed.
On 29 March 1989, two teenagers from Czechoslovakia, armed with grenades and shotguns, hijacked Malev Flight 640 at Prague Ruzyně Airport, and flew the Tupolev Tu-154B with 15 hostages to Frankfurt Airport before surrendering.
For other safety issues you can check the aviation safety website http://aviation-safety.net/database/airport/airport.php?id=PRG
Movies
Ruzyně Airport has appeared in several movies. These include Casino Royale, in which Ruzyně, along with an Airbus A340-600 belonging to Virgin Atlantic portrayed the International Airport Miami. Older films include The End of Agent W4C.
In 2013, Czech TV shot a documentary film The Runway 06-24 about runway 06/24 and its general reconstruction, which took place on the 50th anniversary of its existence. For the 80th anniversary of the airport, Czech TV shot a documentary film, The Story of Prague Airport, that describes the history and operation of the local air traffic. Videos about traffic at the airport, practical information, and local airplanes are regularly added to the YouTube channel of Václav Havel Airport.