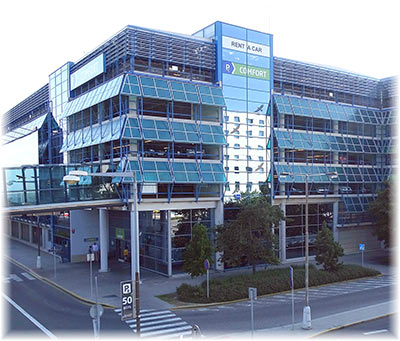 Do you want to park comfortably and then take your suitcase right to the departure hall? That's possible at the Vaclav Havel Airport. Parking at the airport is comfortable and cheaper than parking at lots farther away or in the city. Eight days of parking there are as cheap as 980 crowns. And the comfort of coming to the airport from a town that is far away from Prague and returning from your vacation is surely worth it.
The airport offers three parking lots near the departure and arrival halls. The parking system Aeroparking will, compared to other competitive parking lots that are further away, save you time and money and provide more comfort and convenience. Besides being able to park right by the departure hall, your car is safe the whole time you're away because CCTVs and guards monitor the parking lots.
Make a Reservation and Save Money
Parking at the airport is quite popular, especially in season, and some parking lots can be full. That is why you should make a reservation to be sure of finding a free spot.
All can be easily taken care of at www.aeroparking.cz. In this case, you have your parking space reserved and get it quickly and get a lower price. An online reservation will save you money: eight days of parking (the most common duration of Czech people's vacations) will cost you as little as 980 CZK in the PD Holiday parking place.
Cheapest Rates at PD Holiday
PD Holiday is your best choice if you're flying out on vacation and don't want to spend too much money. If you make an online reservation ahead of time, you'll only pay a fraction of what you would pay in covered, guarded parking lots at most airports outside the Czech Republic.
The Most Comfortable Option
If you're flying out of Terminal 2 and want to park your vehicle as close as possible, the PA Smart parking place is the best choice. If you want above-standard services, choose the PC Comfort parking place; the staff will keep your valuables safely stored for free and provide additional services like inflating your tires or charging your car battery.
Season Parking Card With Benefits
Those who fly from the airport frequently might appreciate the option of getting a season parking card for the Prague airport. It is transferable, so your family members, friends or colleagues can also use it. With the card, you'll be able to park in the PC Comfort parking house throughout the whole year without limitations.
Short Visits
If you need to use the parking lot to load or unload the travel party quickly, you can stay there for free for 15 minutes. Express parking lots in front of Terminals 1 and 2 are available for that purpose. If you plan on staying longer, it is best to park in the parking place PC Comfort or at the outdoor parking lot PB Economy, where you'll pay 80 CZK per hour.