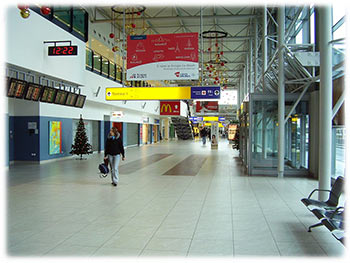 Airport facilities include restaurants, VIP lounges, conference and congress rooms, several travel and accommodation agencies and a post office. Cafés and bars are located at Pier A and Pier B of Terminal 1, near immigration, and a food court can be found between the arrival and departure halls. A restaurant in Terminal 2 also provides refreshments. Business travellers will appreciate the airline lounges situated in Terminal 1, where a meeting room is provided on the first floor. The airport also offers three private conference rooms and a press room in the VIP facilities of Terminal 1. A plastic-film baggage-wrapping service is available at the entrance. Other services include information desks (open 24 hours a day and providing information regarding the airport and getting out and about), flower vending machines (at T1 and T2 arrival halls), a photo booth (departure hall of T2), pharmacy, nurseries (at both terminals), a relaxation centre, showers and a Vodafone mobile phone kiosk.
Post Office
A post office (small branch) is located between Terminal 1 and Terminal 2 in the arrivals area. The post office offers comprehensive public postal services except for parcel services and PO box rental. You can buy stamps, send letters, or do your banking. Bear in mind that most post office workers do not speak English very well. Opening hours: Mon-Fri: 8:00 a.m.- 6:00 p.m., Sat-Sun: 9:00 a.m.-2:00 p.m.
A larger post office can be found in the administration building of the Euroshop Shopping Centre, just opposite the Arrivals Terminal (five minutes' walk). This branch offers a complex portfolio of public postal services. Opening hours: Monday-Fri: 8:00 a.m.-6:00 p.m., Sat: 8:00 a.m.-1 p.m.
Photo Booth
For your convenience, a photo booth is located in the departure hall of Terminal 2.
Flower Vending Machine
A flower vending machine in the Terminal 1 arrival hall offers travellers flowers in three price categories. The fresh flowers are tied in bouquets using a patented system, ensuring long-lasting freshness.
Pharmacy
The pharmacy offers a full range of prescription medicines (including packaged drugs and medicinal preparations), over-the-counter medications, and food supplements. Loyalty cards are available for regular clients. You can pay by credit card or in euros.
The pharmacy is located on the 2nd floor of the corridor connecting Terminals 1 and 2, above the Billa supermarket in the public area. Mon – Fri: from 8:00 to 18:00 and Sat-Sun: from 9:00 to 17:00. You might also check this link for pharmacies operating around the clock in Prague.
Baby Room (Children's Corners)
Nurseries are available 24 hours a day, seven days a week, in the non-public areas of Terminal 1 and Terminal 2.
Showers
Showers are available 24 hours a day in the non-public area of Terminal 2 on Level 3 near the business lounges.
Water Fountains
There are 13 water fountains at your disposal in the Transit Area of both Terminals and the Terminal 1 Public Area. To locate them, follow the navigation signs.
Vodafone
Mobile operator providing complete mobile services for private and business clients. Opening Hours: Monday-Sunday: 7:00 a.m.-9:00 p.m. SIM cards are available starting at 200 CZK (including 200 CZK credit).
Tip: Treat yourself to a panoramic view of the airport landing strips from our viewing terrace. The terrace is situated on the first floor of the public building connecting Terminals 1 and 2. Free entry.
Electronic Charges
Throughout Prague Airport, you can use many sockets and USB ports designed to recharge mobile phones and other small electronics. You can find them:
230V sockets directly integrated into most public and transit seats
USB ports in some seats in public and transit areas
230V sockets and inductive recharging points for mobile phones at the arrival desk
Children's Corners
Travel worry-free, even with the youngest of passengers. Take them to the children's play areas we have equipped with many games, toy kits, building blocks, climbers and slides. Children's corners are located on the second floor of the Terminal 2 public area and at the start of the transit corridor between Terminals 1 & 2. Two additional mini-play areas are located in Terminal 2, Pier C and at several gates in Terminal 1.
Viewing Terrace
Check the airport apron operations or see the flights arriving and departing from the viewing decks. One terrace can be accessed through the Prague Airport Restaurant (Restaurace Praha), which is located in the public area of the Terminal 1 Arrival Hall; another one is located in the public area of the Terminal 2 Departure Hall. It is a nice place to take children and have snacks during summer. Entry is free of charge.
Tax-free Customs Office
Located in the Departure Halls of Terminal 1 and 2, officers will inspect and approve the export documents presented by passengers claiming a tax refund. The refund may then be collected from the exchange office situated behind the Terminal 1 passport control in the Transit Area.
Veterinary Border-Control Station
Veterinary consignments imported from third countries may enter the Czech Republic only via the Veterinary Border-Control Station of the CR or another Member State. The services of the airport veterinary station may also be used to transport animals for zoos and import mammals, aquarium or terrarium animals for pet shops, and other animal products.
Airport employees are responsible for receiving and sending consignments via the veterinary station. There are no time limitations placed upon the handling of consignments; however, only after inspection by the veterinarian. Official veterinarians' working hours: Monday-Friday 7:00 a.m.–9:30 p.m.; Weekends 9:00 a.m.-5:00 p.m. Telephone hotline phone: +420 220 113 267