Check-In Counters
Check-in counters are located in the departure halls in Terminal 1 and Terminal 2. To check-in, it is necessary to bring: a ticket (paper or electronic), voucher or reservation code, a document of identity and a visa if you are flying to a country requiring one. Check-in counters usually open two hours before the actual flight and close 40 minutes before departure. Prague Airport recommends always finding out the exact opening hours of check-in counters for your particular airline.
At the check-in counter, you hand in your luggage, labelled for handling to its destination, receive a boarding pass with an assigned place in the aircraft and a baggage ticket. You then make your way to the security or passport checking point.
Note: Remember that some carriers may charge additional fees for using standard check-in counters. We recommend checking additional fees and check-in options with your airline.
Oversized Baggage
When travelling with non-standard or oversized baggage such as umbrellas, strollers, baby buggies, bicycles, skis, surfboards, boxes, etc., you must arrange the handling of this baggage with the agent at the check-in desk. The baggage will be sent from a special counter labelled "NON-STANDARD BAGGAGE". These counters are located in the departure halls of Terminals 1 and 2. If you plan to check-in solely non-standard baggage, we recommend that you contact the airline (or travel agent for charter flights) directly to discuss handling since this may be subject to specific conditions of transport.
Internet Check-In
If you have an electronic ticket, some airline companies offer the option of checking in electronically from the comfort of your home or office 48 to three hours before departure, according to the standards of the specific airline. Below is a list of airline companies offering the possibility of an electronic check-in. Internet check-in is a simple way of saving time, which you can then spend more pleasantly at Prague Airport.
Airlines With Online Check-in Possibility:
Check-in via Mobile Phone
Check-in via mobile phone is another modern method for passengers to check in.
All you need is a mobile phone with a connection to the internet. From the websites of selected companies that support this form of check-in, you will receive a two-dimensional bar code directly to your mobile phone in the form of an SMS, MMS or e-mail. You then place the code on a special device at the airport, and you can fly.
This revolutionary service completely meets the demands and requirements for speed, independence and flexibility.
Airlines With Mobile Phone Check-in Possibility
Self-Service Check-In Kiosks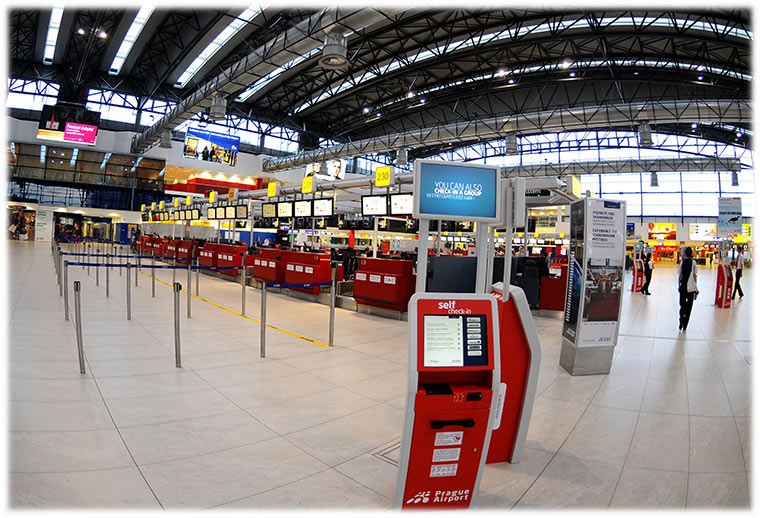 Passengers who prefer this form of check-in can use 16 kiosks in Terminal 2 and nine kiosks in Terminal 1. Self-service check-in is currently possible only when travelling on one of the following airlines: Aeroflot, Air France, Austrian Airlines, Brussels Airlines, ČSA, Delta Airlines, Finnair, Iberia, KLM, Lufthansa, Turkish airlines. Other airlines are expected to join in the future.
Using the self-service check-in kiosks, all passengers listed in airline companies can check in using an electronic ticket. In the event a self-service check-in kiosk cannot be used for a given flight, you are reminded to use a standard check-in counter.
When using a self-service check-in kiosk, identification is carried out manually by entering the e-ticket number or reservation code, downloading one's passport, any credit cards with magnetic strips, or a boarding pass already printed, by manually entering the number of the electronic ticket and manually entering the number of selected cards of loyalty programs.
Suppose you are travelling with hand luggage only; simply check-in and walk directly to the relevant departure exit without any further delay. If you have baggage to check-in, hand it in at the specially designated "Baggage drop-off" counter located near the standard check-in. Here you will receive a ticket for your luggage, after which you can make your way directly to security or passport control. Companies that support this form of check-in are listed below.
The above-mentioned method of checking in is a speedy and simple way of shortening the check-in process, enabling travellers to spend time more comfortably at Prague Airport.
Airlines With Self Check-In:
Private Check-in Service by The Raiffeisenbank Lounge
Contacts
Phone: +420 220 115 909 / +420 220 115 908
Email: [email protected]