The Airport Serves You 24 Hours a Day

If you need to refresh yourself, the airport is home to 32 restaurants and cafés offering Czech and international cuisine. A rich offering of refreshments at all hours of the day and night is complemented by beverage and food vending machines located in both the public and non-public areas of both terminals. Should you wish to visit the deli café or grab a beverage or a newspaper late at night, you will find a selection of 14 shops open to serve you. To name a few of the restaurant brands, in arrivals, in the public area between T1 and T2, you will find cheap eateries, including Burger King and Subway. In the Terminal 2 public area, there's a Costa Coffee and a Billa food store. And in the public area of Terminal 2 at Level 2, you will find the fast-food self-service restaurant Praha.
If you wish to dine at the airport but wish to do it at reasonable prices, try Budvarka. This popular restaurant is located just 200 metres from both Terminals, in the same complex as the Marriot Airport Hotel. Best value meals are served around lunchtime.
These restaurants and shops are open at least from 7:00 a.m. till 9:00 p.m., with some remaining open even longer. For travellers arriving at the airport late evening or during the night, five restaurants are open non-stop in Terminals 1 and 2.
In both terminals, you are free to move about in the public area, open to all airport visitors, or in the transit (non-public) area, which is open only to passengers with a valid boarding pass.
Advice: Most restaurants, especially those in the transit area, are quite pricey. Check their offers before settling yourself in if you do not wish to spend a huge amount. It is much more economical to eat in the public area. If paying in other then local currency you most probably will be given an unfavourable rate.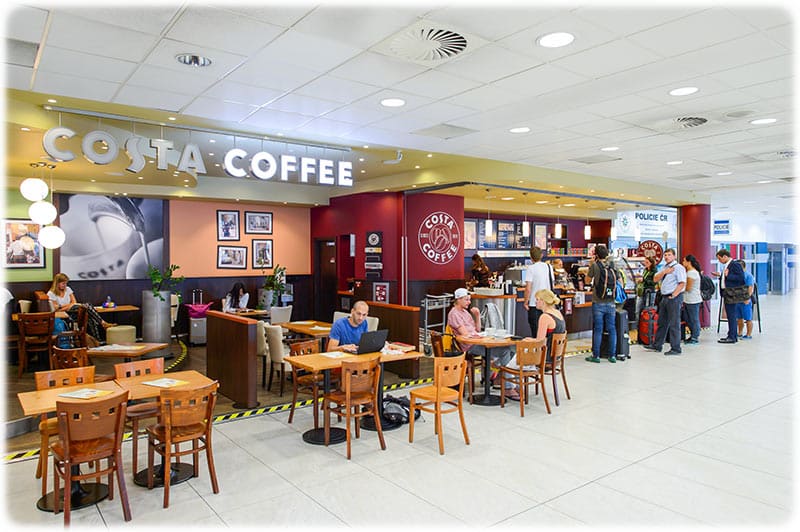 Tip: At the public area between Terminal 1 and Terminal 2 arrivals you can find the supermarket Billa. It is an excellent choice for last-minute shopping if you are after locally-made groceries, or even for some presents at affordable prices.