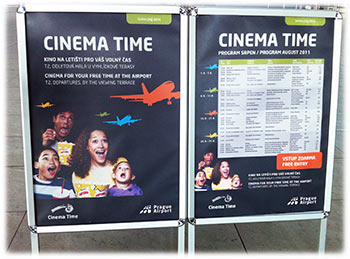 A unique arts & culture project has been launched at Prague Airport: the CINEMA TIME permanent screening room. For thousands of travellers who spend a few hours a year at the airport and all other airport visitors, CINEMA TIME opens up an entirely new possibility for spending their free time.
Visitors can choose from a wide variety of films worldwide, which will be screened in thematic and mixed cycles. The films shown include titles targeted at various age groups. Thanks to the wide variety of genres represented, including thrillers, action films, romantic comedies, art films, and documentaries, the selection includes something for everyone. Screenings run daily from 10:00 a.m. to 11:00 p.m.
Up-to-date listings are always available at the www.prg,aero website and in the cinema at the airport section. So where can you find CINEMA TIME? It's in the Terminal 2 departures hall, near the viewing terrace. Admission is free.