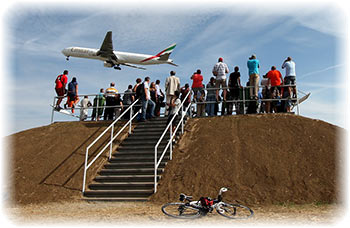 Prague Airport offers spotters interested in air traffic and watching landings and take-offs at the largest airport in the Czech Republic several options to get as close to the aircraft as possible and take the ideal photo.
Viewing Banks
In August 2012, viewing banks were opened in the airport's immediate vicinity, from which you can watch and take photos of the action on the airport field from above the fencing. The banks are located at the two most frequented spotter locations, namely near RWY 06/24, which you can easily get to from Kněževes village, and at the crossing of runways RWY 12/30 and RWY 06/24, to which you can walk on a path from the nearby town of Hostivice. The viewing banks are equipped with information panels for the public, containing interesting facts about common aeroplanes and a plan of the airport.
Openings in the Fencing
In several places directly in the fence around the non-public zone of the airport, aviation fans can find openings for their camera lenses so that they can take interesting pictures easily. The location and shapes of the openings were discussed by spotters themselves beforehand, and they correspond to the most popular points used by the public for taking photos. At present, 54 openings along the airport fencing are available to photographers.
Viewing Terraces
You can take a close look at flights landing and departing directly at the airport! Viewing terraces for the public are available in both Terminals 1 and 2. There are also information panels comparing common types of aircraft and an airport plan with interesting points marked.