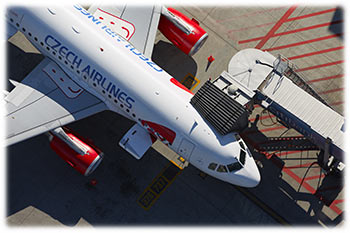 Václav Havel Prague Airport is a modern and spacious international airport located on the northwest edge of Prague, around 17 kilometres north of the city. Formerly known as the Prague-Ruzyně, the airport was officially renamed the Václav Havel Airport Prague in October 2012 (named after the country's first post-Velvet Revolution president, Václav Havel, who served as president of Czechoslovakia and then of the Czech Republic).  All international flights arrive at this airport and there is no other civil airport in Prague; however, Prague has three smaller airports and several landing areas for helicopters located at airports and in hospital compounds. The journey from the airport to the city centre takes around 25-30 minutes by taxi or up to one hour by public transport. The airport is equipped throughout with modern facilities, offering passenger comfort similar to that in other EU airports. The building also includes conference rooms and other spaces; for example, for VIP and business clients, or for those travelling with children, etc. Overall, Prague Airport is a comfortable, clean and easy place to use and to find your way around.
Practical Information
1) There is no train or metro connection to/from the airport. Public transport bus service links are available to underground stations on two different lines. The approximate time from the airport to the nearest metro (line A) is around 30 minutes.
2) Getting from the airport is possible by public bus, shuttle or taxi service.
3) The distance from the city centre to the airport is 20 kilometres (around 30 minutes).
4) There are three terminals. UK flights arrive and depart from Terminal 1 (with passport control) and flights from Schengen-zone countries from Terminal 2 (without passport control).
5) Use the ATMs in the arrivals hall to draw out Czech crowns rather than changing money at the airport, as bureau de change outlets tend to be overpriced. The same applies to restaurants, with most being rather highly priced. Some cheap fast food chains can be found in the public areas at arrivals.
Airport map – http://map.prg.aero/